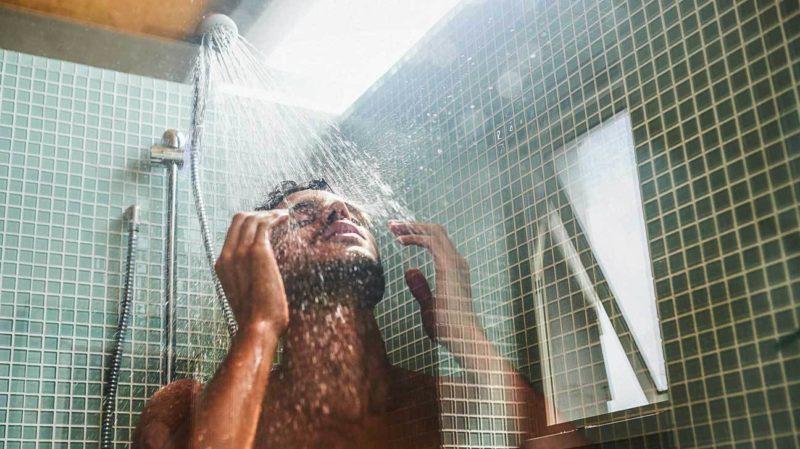 Trends are unexpectedly shifting in 202o. The shower is starting to become more favorable than the bathtub. However, if you are thinking of replacing your bathtub with a shower, don't do it right away. Some experts still claim that it's difficult to sell a house without a tub. A recent Houzz poll proved that as many as 58% of the respondents agreed that it's not worth buying a home without a tub.
In essence, the decision to replace your bathroom should be made after deliberation. While Showers are great time-savers and have efficient accessibility, a bathtub sounds heavenly when relaxing after an exhaustive week. One of the few demographics that still prefer a bathtub is usually families with young kids. As for the rest, walk-in-shower is more preferred with its advantages.
If you are really on the fence, you don't have to replace the bathtub entirely. You can maybe have a walk-in shower in your master bathroom and a tub in the guest/secondary bathroom. Then again, if space is a constraint to have both options, then keep in mind a few things before deciding.
This article aims to answer your queries about showers, their advantages, the aspects that should influence your decision, and how to change your tub to a shower if you decide.
Why Should You Replace Your Bathtub with a New-Age Shower?
Personal preferences will help you decide between a shower or a tub. Generally, there are a few common factors across the board.
Here are a few benefits of a walk-in shower that you should consider.
The resale value of your house increases with a shower compared to a tub.
Showers are user-friendly for the disabled or elderly people as climbing over the tub apron can be challenging.
Showers are more economical as a shower uses 20 gallons of water whereas a tub uses 30 gallons.
Time management wise, showers are incredibly efficient.
A shower is a utility while a bathtub is a luxury based on the time spent. Showers are a highly practical option as you can have a bathtub but you'll rarely use it.
If you live in a neighborhood with a majority of young, working couples or single people – the chances of you getting a buyer are much easier with a shower.
Besides these, with the age-in-place movement, more people would rather grow old in their own homes than in assisted living facilities. And with the shower being a more disabled-friendly option compared to the tub, it's the right fit for the movement.
Factors to Consider Before You Begin Your Bathroom Remodel
Before you begin with the bathroom remodel, do consider a few things and ask yourself a few questions.
Do not replace all your bathtubs if you have more than one tub across bathrooms. Instead, convert the master bathroom's tub into a shower and leave the remaining bathrooms untouched which gives you the best of both worlds.
If your bathrooms are cramped, showers are your best bet. Besides being space-efficient, it also gives the illusion of extra space in your bathroom. So if your cramped bathroom has a tub, gladly replace it.
As previously mentioned, a tub is a good choice if you plan to start a family in your house. Otherwise, showers are a better option.
Building a walk-in shower is costlier than installing a simple bathtub. But it does increase the resale value by 20% which is important to factor in that about 65% of potential buyers prefer showers.
Check for damages (dry rot, water damage, etc.) around the tub area especially if it's an old tub before confirming the budget. Repairs might greatly increase your budget if you don't count them in the beginning.
Make sure to not build your shower around a window. While privacy issues can be easily dealt with, water seeping into the window frame can cause severe damages to the wall and frame.
Types of Walk-In Showers
A tub to shower conversion is a challenging task and shouldn't be done without expert supervision. A conversion such as this involves various aspects of bathroom remodeling such as plumbing, drywall fixing, demolition and etc.
Shower Kits are relatively cheap. Although they can't be customized, they fit well into most spaces previously occupied by a bathtub. A shower kit comes with a sliding glass door, some panels, floor pan, drain hole, and built-in shelves if you require them.
Tiled Shower Curbs emphasize the curb marking the boundary between the shower and the rest of the bathroom. A tiled shower requires a curb to hold the water inside the shower and also hold the door. It needs polishing with round edges to reduce the risk of injury.
Curbless Showers are basically without the curb as discussed above thus being an ideal option for the elderly and people with disabilities.
Steps For Replacing Your Bathtub With a Shower
It's best to seek professional help to install a shower. Nonetheless, if you can take up this task by having the right tools, here is how you do it.
Step 1: Pick a style
If it's a DIY project, you obviously won't be opting for tile or stone showers that are built up from scratch and take months to finish. A shower kit is a reasonable approach.
Numerous options exist in the world of shower kits. But the biggest decision comes down between a curbed and a curbless shower kit.
Besides the mentioned pros and cons, curbless showers are usually pricier and take longer to install
Step 2: Determine the measurements and placement
Below are the minimum measurements you should aim to achieve with a shower:
Height to ceiling – 80 inches
Distance between the shower wall and the side of the toilet – 15 inches
Distance between the shower wall and the front of the toilet – 21 inches
Area – 30×30 squared inches
Ultimately, the best move is to install the shower where the tub used to be. This leaves you with minimal adjustments to the plumbing.
Step 3: Remove the tub
Removing a regular tub shouldn't be too difficult but the heavier ones may require extra help. Take care of the faucets and other paraphernalia before you wrestle the tub out.
Once the tub is removed, check for any signs of rot, Other damage on the floor or surrounding walls may also be present. If there is damage, you should consult a professional and fix the issues before installing the shower.
Step 4: Install the shower
The shower kit installation would definitely require you to follow the written instructions closely.
First, install the shower base and repair the walls you left open once you have removed the tub.
For a curbless walk-in shower, you need to level the pan with the rest of the bathroom floor. If it's not, you might need to lower the floor of the shower area.
Final Word
Utility wise, a shower is your best bet. Showers save water, have a broader use-case, are elderly and disabled-friendly. They also hike up the resale value on your home.
Ideally, it's great to have both a shower and a tub. However, if a choice has to be made, showers are the practical choice. Once you've decided on renovating, plan it out well to avoid any hiccups.