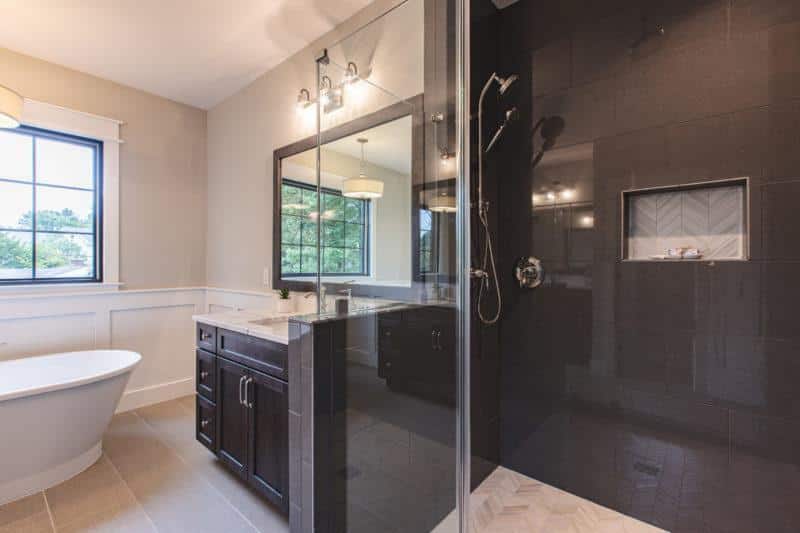 Most of us have to make do with small, cramped bathrooms. This means rushed morning hours to get out on time and get ready for the day. 
Usually, this can be torturous if you already have space constraints or just one bathroom for that matter. Thus, the last thing you need to worry about is shower remodel ideas. You may start to think anything fancy doesn't belong in your average-sized space that can barely equip your toilet, sink, and vanity, right? Wrong. 
With a bit of strategizing, you can remodel your existing bathroom and include these luxurious and timeless shower remodel ideas. It will turn even the tiniest spot into your oasis. You can easily implement these ideas to make a difference in how you perceive your bathroom space. Most importantly, it will add elegance to a room you once thought was a lost cause. 
Get Creative With Glass
We all know a glass door is a lovely touch to a walk-in shower. If not a door, a glass panel can do wonders to your existing layout. If you're working with a small space, leaving the shower open to the rest of the bathroom can make all the difference in the world.
Besides, the continuation of the floor style design without a shower lip also helps a lot. Of course, you need a decent sense of privacy when taking a shower. But what do you do if you have an open shower? You opt for Plan B.
You can install a half wall shower guard. Not only does it provide privacy, but also a spot to place some decor items and plants. It can also be a suitable separator from the rest of the bathroom. 
On the contrary, if you have barely enough room to pass between the shower, toilet, and sink, get really clever with your shower remodel. It's best to think of unconventional ways to bring functionality and practicality, and style to a rather boring shower.  Getting a tinted glass door is a perfect example of just that. You can bathe while you have your kids running in and out.
Be Strategic With Placement 
Here, it's key to keep the layout of your space in mind before implementing any shower remodel ideas during your remodel. It's essential to use those empty corners.  Put your shower around the existing corners of your room. This way, you can line up the sink and the toilet on the longer wall. 
Thorough planning and budgeting with your contractors will make your shower remodel process more manageable and hassle-free too. For instance, ditch the door. You don't need to worry about privacy in a bathroom. 
This is generally for single homeowners or couples who are not worried about random guests or kids walking in. Open showers work best to maximize the space too. Plus, you don't even have to worry about squeezing in a door.
Keep a Light Color Scheme
Don't underestimate the power of white when it comes to remodeling your shower. It is available in a multitude of different hues like eggshell, daisy, porcelain, etc.
It matches up perfectly with other colors. Plus, going with all-white walls and matching tiles creates a soothing palette. This, in return, makes your bathroom feel more airy and bright. Thus, you need to consider this while looking for shower remodel ideas.
Get Stylish With Shower Tiles
It doesn't matter if you have a small or large bathroom; you must take advantage of your bathroom height. You can install rectangular, elongated tiles and stack them to draw the eye upwards. By doing so, guests will focus more on the vertical space rather than the square footage. 
You may think it's just a bathroom, but that doesn't mean you have to let your visual aesthetic go out the window. You can simply install gorgeous ceramic or concrete tiles. It is a sure way to trick everyone into thinking your bathroom is palatial. Just like the above white color palette, create an illusion. 
As a matter of fact, while choosing your tiles, you can go for geometric patterns with a lot of detail; but don't go overboard. Decorate just one area of the bathroom, perhaps the floor or only one focal wall.
Keep the Pan Shallow
One of the key ingredients to get the shower of your dreams is to use smaller rectangular shower pans. So ditch the larger pans. This will still instill a sense of luxury for your new shower without giving up valuable floor space. 
Pay More Attention to the Hardware
You can install gorgeous hardware to give your shower remodel a winning touch. It will allow you to focus on the bathroom's beauty instead of the usual.
Other than that, remember to install adequate shelving for your toiletries and you'll be well on your way. You can also be more creative with the stalls. Simply install two panels of glass around the hardware. This is incredibly ingenious for bathrooms that are long but not very wide.
While the hardware can easily elevate your shower design, you can also add unique functional aspects like a bench. A built-in bench inside your shower is not only a convenience but also a great functional choice. 
Besides, it also adds to the wall that's already being used and allows you to introduce a new tile. Not only that, you can use it to store or display soaps and shampoos. You can even spruce it up by adding decor elements when you're not using it to sit or bathe. 
With these shower remodel ideas you will make the most of your bathroom remodel and feel like you've completely rejuvenated at the end of every day thanks to small but effective changes.